Tradescantia
The Spiderwort, Tradescantia virginiana, a spring blooming plant is considered to be an easy to care for and grow wildflower plant. Its other common name is Widow's Tears. A herbaceous perennial in the family Commelinaceae, is native to the New World from Southern Canada to Northern Argentina, including the West Indies. Its unusual name may have come from the way the flower hangs down from the stem like a spider or because it was once used to treat spider bites. It is worth having because of its lovely colorful flowers and unusual leaves.
The flowers have three petals usually in blue to purple, but may also be in pink, white or red. Clusters of unopened flowers are seen on a single stem with one being open for a single day, blooming in the early morning then closing at night never to reopen. Deadheading is not necessary. They have been known to show multiple colors in the same clump.They bloom from May-September.
Plants grow in clumps up to 3 feet across in hardiness zones 4-9. Spiderwort is aggressive! The plant self seeds and grows everywhere in the yard growing in tight bundles choking out other plants. The roots go down about 2-3 inches, and are tightly packed making it difficult to remove. The plant is a vigorous grower. A number of species have become pests to cultivated crops. Shear back after their last flowering, so that they do not go to seed.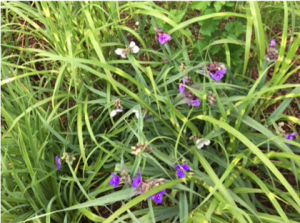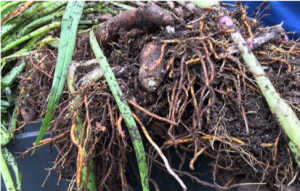 Post written by Denise Clegg. All Photos taken by Denise Clegg