OFFICERS
President: Mary Van Tassel 269-375-1708
Vice President: Sara Taylor and Zadie Jackson
Treasurer: Lorie Reed
Secretary: Birdie Hoikka
Corresponding Secretary: Lorie Reed
Council Director: Donna Standish
COMMUNITY ACTIVITIES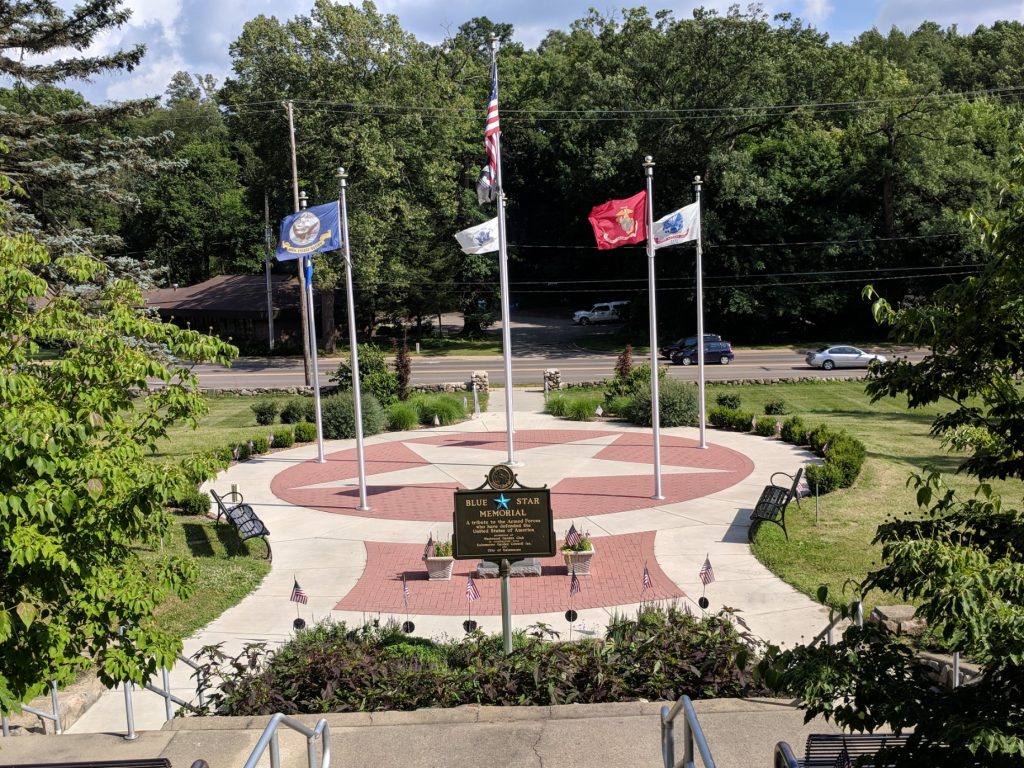 Kalamazoo in Bloom-Plant and maintain a bed in Bronson Park. Planting day May 24, 9 A.M. to 1 P.M. Lunch is included and you get a t-shirt.
Veterans Memorial at Riverside Cemetery-For more information on the Veterans Memorial at Riverside Cemetery and to donate to this worthy project honoring all veterans go to http://kalamazooveterans.com.
The Fountains at Bronson Place-Assist seniors in planting their vegetable and flower gardens.
Presentation at a luncheon at Bronson Place on the Veterans Memorial.
We participate in the Garden Council Green sale and Council activities.
Five Senses Garden celebrate it's 50 Anniversary on July 21, 2018.
CLUB MEETINGS & PROGRAMS
Guests are invited to selected events on the calendar below. It is suggested that our guests attend 3 meetings before deciding to join Westwood Garden Club. Dues are $20 annually during the month of June. By joining Westwood Garden Club you are joining Michigan Garden Clubs, Inc., and Kalamazoo Garden Council.
There are no meetings in January or February.
All programs start at 11:30 a.m.


March 27
Program: How to use Garden Council Website
Location: Garden Council House 5333 N. Westnedge Ave
Speaker: Kathy Kienle- WebMaster
Hostess: Jan and Mary Farrell—- Potluck luncheon

April 24
Program: Monet Garden powerpoint presentation
Location: Garden Council House Guest Welcome
Presenter: Irene L Belden, Master Gardener
Hostess: Sharon Robbins & Donna Standish–soup lunch, bring sandwich

May 11
Plant Sale at Georges Appliance near Miller Road Post office
Time 9am to 2pm–

May 15
Spring clean up at the Veterans Memorial on Gull Road
9am come with rakes, tarps, trimmers 9am to 11am
Master Gardener hours available

May 21
Mulching the Veterans Memorial 9am to 11am. Bring gloves, rakes, buckets
May 22
Program: Make a Candle
Location: Kalamazoo Candle Company 166 S. Kalamazoo Mall
Handpick from 25 Fragrances
Hostess coordinator Birdie Hoikka – lunch at the Union Restaurant

June 1
Garden Tours to 4 Gardens starting at Lorie Reed's home on
1188 N. Seventh Street call for tickets and info 378-2572

June 12
Clean up at the Veterans Memorial at 9am to 11 am

June 26
Program: Tour of Fish Hatchery, Native Plants Garden, Info on Water wheel Restoration
Location: M43 at Fish Hatchery Road at 11:30 am to 2pm
Presenters: Elsa Gebhard, JC Schneider and Shana Ramsey Guest Welcome
Hostess: Karen Baker and Irene L Belden- picnic lunch- may order box lunches

July 10
Memorial Clean up at 9amJuly 24 Program: Making a Fairy Garden
Location: 2320 Ridge Road at Sandie Idema;s Garden Guest Welcome
Presenters: Irene L Belden and Sandie ( Pottery items available for sale)
Hostess: Char Richards and Mary Van Tassel- sack lunch picnic

August 14
Memorial Clean up 9am -11am

August 28
Program: Flower Arranging basics
Location: Kalamazoo Garden Council House Guest Welcome
Presenter: Patti Oakland
Hostess: Laura Woodruff and Mary '/an Tassel Taco Salads luncheon

Sept 11
Memorial Clean up at 9am-11am

Sept 25
Program: Tour of KVcc Food Innovation Center at 1pm Guest Welcome
Location: 224 Crosstown Parkway with 70 parking spaces available
Presenter: Rachael Baer 548-3300
Lunch: At Havirmill Cafe at 11:20am – 418 East Walnut Street phone 548-3200
Hostess: Mary Farrell and Mary Van Tassel

October 9
Final Clean up a the Veterans Memorial 9am-11am
October 23 Program: " Putting your Garden to Bed" Guest Welcome
Location: Kalamazoo Garden Council House
Presenter: Luba Schram, Master Gardener
Hostess: Jan Collins and Cindy Lane
Nov 6 attend the Great Pumpkin Soiree at the City scape – fundraiser for Kalamazoo in Bloom

Nov 13
Program: Work on Green Sale projects
Location: Lorie Reed's Garage 1188 N. Seventh Street
Hostess: Zadie Jackson & Sharon Robbins Soups on!
November 27-December 1 Green Sale week at the Expo Center

December 11 or 18
Christmas Tea/ Luncheon —location and time to be announced
Suggested a white elephant Garden Gift exchange > $10.00
GOALS
The goals of the Westwood Garden Club are to identify and accomplish community improvement projects and collectively support National and International Garden Club projects.
CLUB HISTORY
The Westwood Garden Club was organized in 1958 and joined the Federation of Garden Clubs in 1967. The Club has had 35 presidents . Five of these have been President of the Kalamazoo Garden Council.
PURPOSE
The purpose of the Westwood Garden Club is twofold:
1. to promote a greater interest in the application and knowledge
of conservation and horticulture.
2. to exchange experiences that will be of mutual benefit to all members.