Mission Statement
The object of this Club is to promote horticulture, conservation, and the enjoyment of gardening through activities and study.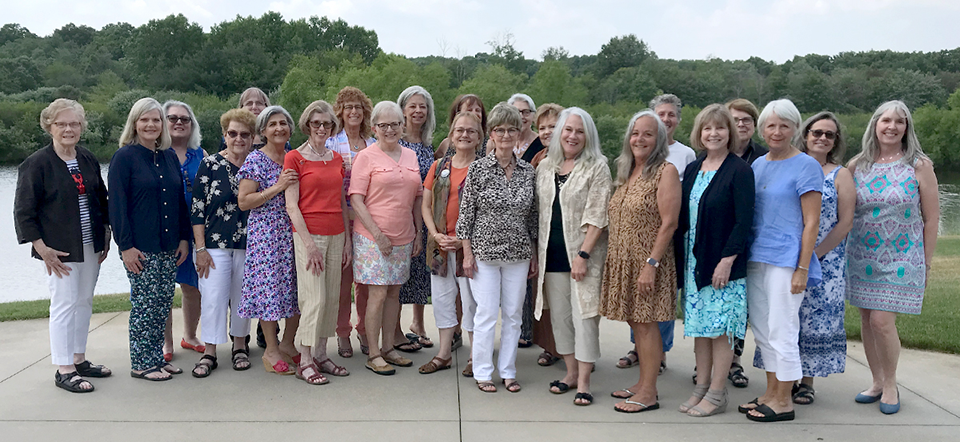 Petal Pushers Meetings
The regular meetings of this Club will be held at 12:30 p.m. on the second Wednesday of the month, unless noted. Members are encouraged to come a half-hour early for socializing and snacks. Meetings consist of a program or activity and a Club business meeting. Petal Pushers Fiscal Year is July through June.
Petal Pushers 2023-2024 Meetings / Programs
July 13, 2023 | Shades of Lavender (fieldtrip) to Lavender Farm in Mattawan
August 9, 2023, 2023 | Parkwyn Village (fieldtrip) home and garden tour, Kalamazoo

September 13, 2023 | Dahlias G Avenue (fieldtrip)

October 11, 2023, 2023 | Tree Walk at K College (field trip) at Kalamazoo College

November 8, 2023, 2023 | Greens Sale Projects at KGC Council House

December 13, 2023, 2023 | Holiday Luncheon venue TBD

January 10, 2024 | Michigan Natives at the KGC House

February 14, 2024 | Kew Gardens presentation at the KGC House
March 13, 2024 | Seed Library at the Portage District Library

April 10, 2024 | Flower Arranging at KGC House
May 8, 2024, 2024 | PP Plant Sale Prep at the KGC House

June 19, 2024 | Installation Luncheon venue TBD
2022-2023 Club Officers
Co-presidents: Carol Beckius and Suzanne Budrow
Vice President: Sharon Zinser
Co-Secretary: Jeanne Grubb and Andrea Stork
Treasurer: Bonnie Borak
KGC Club Director: Suzanne Sackett-Muma
Standing Committees
Awards Committee
Bank Planters (6/23)
Builders Home Show (8/23)
Christmas Luncheon
Donations 2023
Environmental Concerns
Facebook
Friendship
Flower Show (even years)
Friendship Cards and Calls
Garden Therapy at Meilland Square Memory Care
Gold Star Memorial
Historian/Scrapbook
Horticulture
Installation Luncheon (6/24)
KGC Greens Sale Club Projects
KGC Gnome Workshop
Membership/Rosters
Nominations
Plant Sale (spring 2024)
Plant Sale Plant Acquisition (spring 2024)
Pollinator Garden att KGC House
Program Committee (assist VP0
Wenke's Good Neighbor Day
Yearbook/Update PP Webpage
Petal Pushers Community Projects
Garden Therapy Program
Petal Pushers partners with Meilland Square Memory Care at Heritage Community of Kalamazoo for our monthly Garden Therapy Floral Arranging sessions. Each month a group of our members take flowers and greens that are donated by Trader Joe's, to the facility and work together with the residents to make a floral arrangement which they keep. Members work with each resident individually to create a flower arrangement. The shared time and appreciation for beauty makes this a very special program the volunteers look forward to each month.
Gold Star Memorial at the Kalamazoo Air Zoo
Together with Landscapers Garden Club, Petal Pushers collaborated to establish, dedicate and maintain a Gold Star Memorial at the Air Zoo Aerospace & Science Museum, in Portage MI. The memorial was dedicated November 11, 2021. Gold Star Families is a non-profit organization created to provide support to those who have lost a loved one in service to our country through the United Armed Forces. Their mission is to offer honor, hope and healing through remembering fallen heroes by coming together. The Gold Star Memorial plaque was affixed to a large bolder and is located near the front entrance to the museum. The memorial will be at one end of the future memorial garden/arboretum. Both Garden Clubs will alternate on seasonal floral arrangements and wreaths to bring added beauty and respect to the memorial. www.gardenclub.org/blue-and-gold-star-memorial
First National Bank of MI Planters
Petal Pusher members volunteered to make the corner of Park and Michigan a little bit more beautiful—just in time for summer. This project was initiated through Kalamazoo Garden Council and is a beautification project and is rotated among all the member Clubs.
Kalamazoo in Bloom Planting Day
We are excited to be back to volunteering with Kalamazoo in Bloom to plant annuals as a Club project around the statues, and at various beds in Bronson Park—after years of being on hiatus. This year we got the joy of planting the Childrens Statue area across from the Civic with a beautiful array of white inpatients and other plantings with mixed annuals.
KGC's Holiday Greens Sale
The Kalamazoo Garden Council hosts a Holiday Greens Sale every year and member clubs make holiday-themed projects to sell at this event. A portion of our November meeting is devoted to finishing the Club projects and attaching the sales tags. Our Club is also well represented at all the council-sponsored workshops to make swags, bow-making, Porch Gnomes, and fresh green arrangements. Our members also donate many hours working at the Greens Sale. In 2022 we made Porch Gnomes and Swags as our Club projects. This year marks the 70th Annual Greens Sale which will be held at the Portage Zhang Community Senior Center on December 2-3, 2023.
Petal Pushers Plant Sale (Spring 2024)
Petal Pushers voted to put our annual Plant Sale on "hiatus" for a year while we access our time and talents and figure out how to host a plant sale in a smarter way. Stay tuned to see what we arrive at.
Pollinator Garden at the KGC House Petal Pushers voted to "gift" the Kalamazoo Garden Council the planning, installation and labor to establish a Pollinator Garden around the donated birch tree. Now this Pollinator Garden is our Club's designated area of KGC House grounds to maintain. We worked on amending the soil, creating a planting plan and began planting perennials in the late summer 2018. Poetry stones, a Peace Pole, and a butterfly house created by Wendy Peterson and her husband were installed. In May 2021 we dedicated memory rocks painted by Evelyn Flynn in honor of Lynn Morris and Ann Wunderly. Most of the perennials were donated by Club members with additional annuals donated through Wenke's Good Neighbor Days. Members are encouraged to Adopt-A-Week to tend the garden.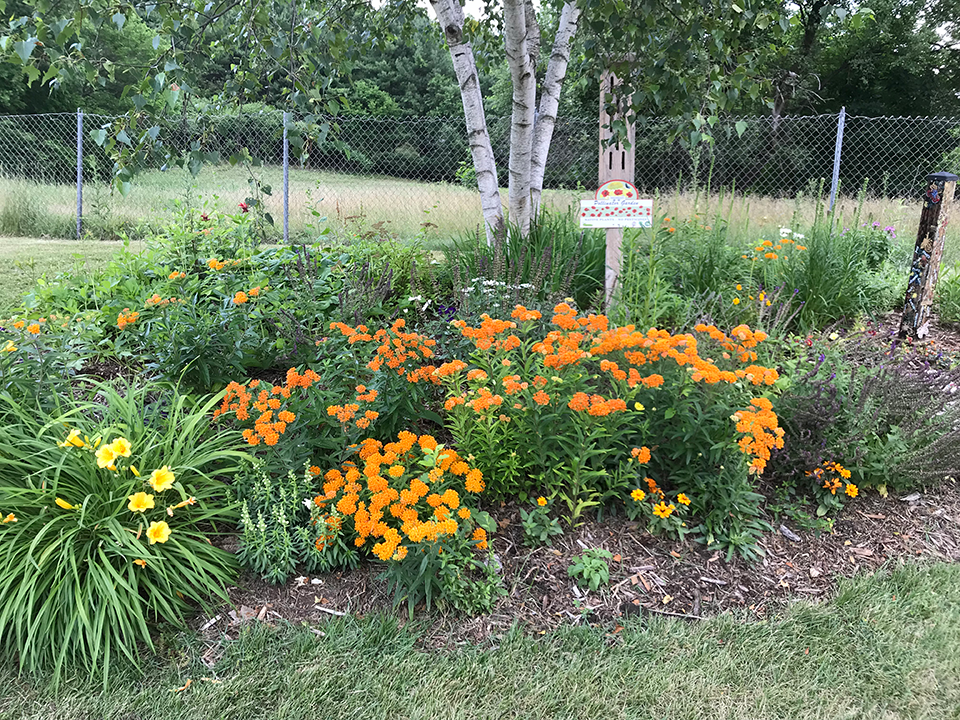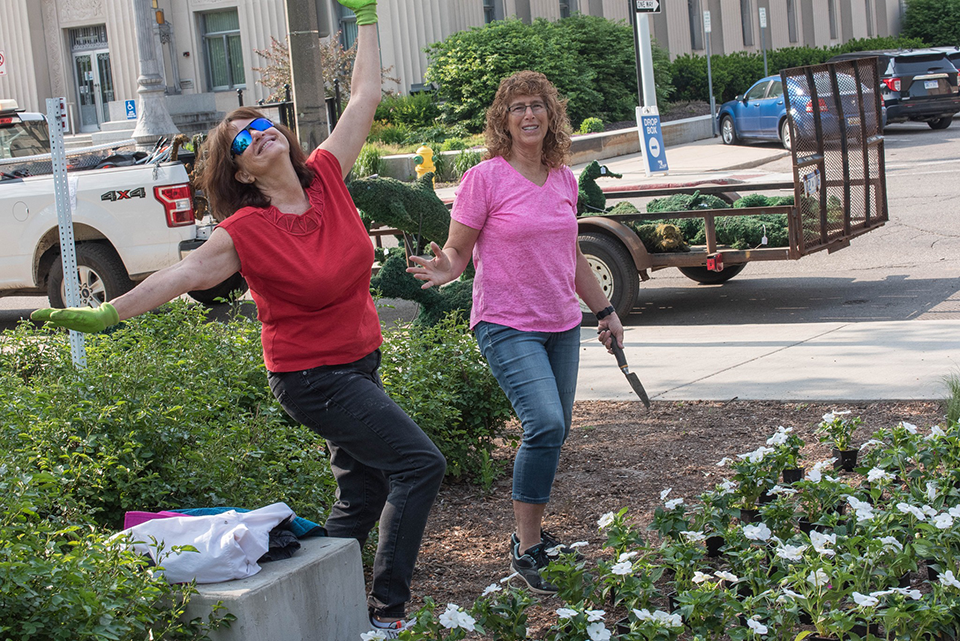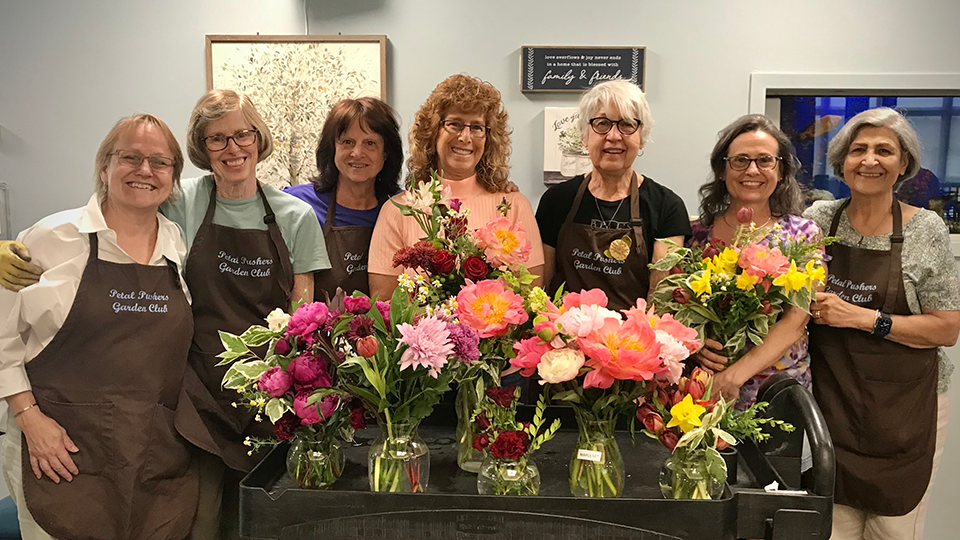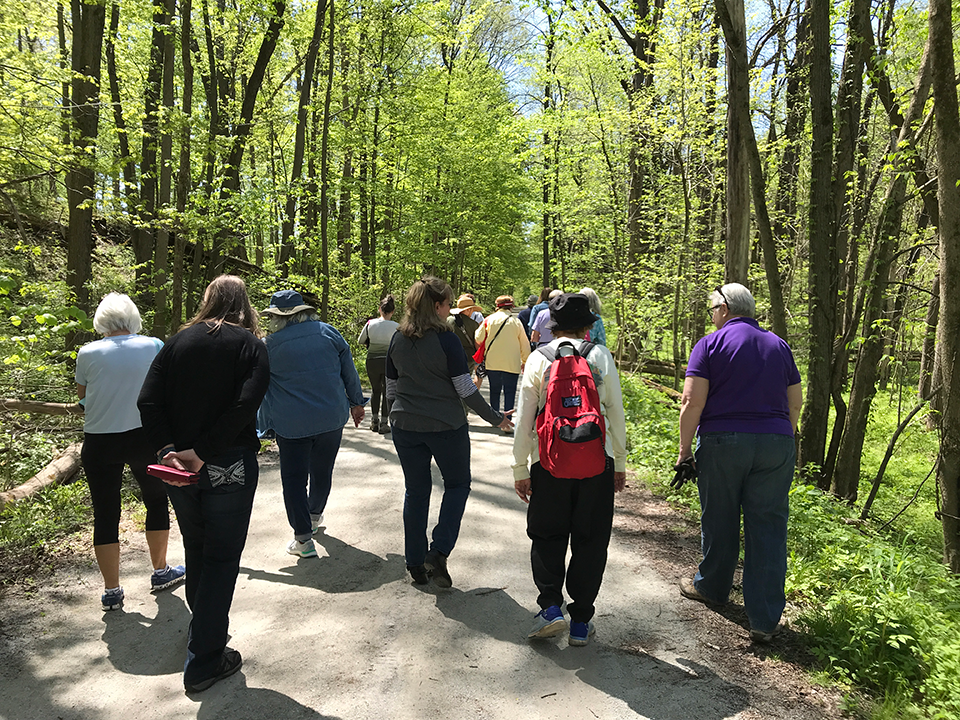 Check us out on Facebook:
"Petal Pushers Garden Club, MI" or use the icon below.
Club Highlights
Organized in 1957 – Federated in 1960. Petal Pushers was the vision of two women, Gladys Seseman & Claudia Rice in 1957. Their first program book included a constitution, by-laws, a garden creed, and a list of officers and members.
Through the years the club has been involved in many activities throughout the community. These activities have changed over time, but they always involve ways to enhance and beautify our surroundings. Kalamazoo in Bloom, which involves Bronson Park and Portage Center, are activities that we contribute to as well as working with Alzheimer patients in 'touch & feel' activities, with flowers and greens. Our club participates in the annual KGC Greens Sale with creative gifts, and arrangements, plus setup, floor work and tear down.
In 2008 the club had its first plant sale. The plants for the sale come from club member's yards and the yards of friends. This sale in now in its 11th year and has become a favorite of all plant sales in the area. Many years ago two friends with a vision planted a seed and from that our club has grown. It has deep roots and strong branches that have provided interesting activities and enjoyment to a diverse group of women.
Find out more about becoming a garden club member by completing the form below.