---
OFFICERS
Co-Presidents: Karla Labby
Vice President: Michelle Farris
Secretary: Judy Spiekermann
Treasurer: Lynn Belco
Council Directors: Pat Hansson
Committee Chairs:
All American Seeds – Elizabeth Troman
Arbor Day – Brenda Carl, Ellen Pickett, Pat Hansson, Karen Cote', Yolanta Motte
Awards –Karla Labby, Judy Spiekermann
Birds – Barb Krueger
Calling / Reminding – Email: Karla Labby, Phone: Karin Caston, Liz Troman
Community Gardens –

Plainwell Acorn/M89 & Art Sculpture Garden – Michelle Farris, Judy Spiekermann

Plainwell Blue Star Memorial – Bunny LaDuke, Theresa Waters

Otsego Pollinator Garden & Blue Star Memorial – Brenda Carl, Kay Lehmann, Theresa Waters and Karla Labby

Hope Lutheran Church – Judy Spiekermann, Inge Mesik, Pauline Northrop

Environment – Inge Mesik
Fundraisers – Spring Plants & Baked Goods: Nancy Lewis, Karen Gustafson
Greens Sale Projects – Kay Lehmann, Mary DeRyke, All Chula Vista Members
Greens Sale Raffle – Michelle Farris, Bunny LaDuke, Karla Labby, Lynn Belco
Historian – Mary Surine
Horticulture – Nancy Lewis
Membership – Inge Mesik, Kathy Lesman
Newsletter – Karla Labby
Nomination and Policy – Karla Labby
Programs – Michelle Farris, Karla Labby, Bunny LaDuke, Judy Spiekermann, Karin Caston, Karin Cote', Yolanta Motte
Publicity, Facebook, & Other Social Media – Karla Labby, Michelle Farris
Meetings: 3rd Thursday of the Month at 6:00 pm
Fiscal Year – July 1 thru June 30
Organized in 1955 – Federated in 1960
COMMUNITY ACTIVITIES
The club works with local community, church, and other officials to provide horticulture and landscaping support.
Several years ago, at the request of the city manager Chula Vista planned and planted two gardens at Acorn/East M-89 in Plainwell. Later, a sculpture landscape garden, and a Blue Star Memorial were added in the same area which continue to be maintained by Chula Vista members.
Chula Vista provides and plants containers at Hope Lutheran Church where meetings and activities have been held.
Working with the City of Plainwell in 2018 Chula Vista initiated a landscaping plan for a fern garden area within Hicks Park in downtown Plainwell. More than 300 bare root Christmas ferns were ordered and planted by Chula Vista members, friends, and City workers. The ferns continue to flourish and enhance the beauty of the park.
Chula Vista members partnered with the Plainwell Department of Public Works (DPW) employees in 2018 and 2019 to plant 75 flower boxes for the bridges in the City of Plainwell. In 2021 Chula Vista arranged with the City Parks & Trees Commission and the Plainwell DPW to have an Eagle Scout construct and donate 12 new bridge baskets to hold massive plantings of annual flowers.
A major activity of the club is the Annual Children's Tree Project. This project has been an annual project of Chula Vista Garden Club for 45 years. Five hundred tree seedlings are selected, purchased, bagged with soil, and presented to all 3rd graders in all schools in Otsego and Plainwell. Coordinating with the school administrations and teachers, a presentation by members is provided along with the seedlings.
Due to the COVID pandemic, the Annual Children's Tree Project was cancelled in 2020. The club applied and received award funding from National Garden Clubs, Inc., to conduct the project in 2021 providing about 1,000 tree seedlings to all 3rd and 4th graders, along with 15 flash drives for teachers to educate the children about the value of trees, information about the tree they were receiving, and some tips on how to plant and care for their new tree seedling.
CLUB MEETINGS & PROGRAMS
Chula Vista meets monthly at the Otsego Township Hall or at Hope Lutheran Church in Plainwell. Monthly programs include speakers on various topics or field trips to special gardens or other facilities which feature horticultural, landscaping, or environmental programs.
January 17 Cooking with Herbs by Karin Castin, Chula Vista Member – 6:00 pm, Hope Lutheran Church, 280 12th Street, Plainwell
February 21 Greenhouse Gardening by Jan Schaap, Schaap's Greenhouse, Kalamazoo, – 6:00 pm, Hope Lutheran Church, 280 12th Street, Plainwell
March 21 Butterflies are Blooming, Frederik Meijer Gardens, 1000 East Beltline Avenue NE, Grand Rapids, MI.
We will meet at 11:00 at Hope Lutheran Church and carpool from there. 11:30 am Lunch/Meeting at Simply Ceilia's Restaurant, 142 South Main Street, Wayland. 2:00 pm Tour Butterfly Display – $10 per person
April 18 Arbor Day/Earth Day Trees, 6:00 pm – Otsego Township Hall, 400 N. 16th Street, Otsego
Approximately 500 trees will be bagged and prepared to distribute to all 3rd grade students in public and private schools in Otsego and Plainwell. Volunteers will make presentations and give to students on Friday, April 19, 2019 to celebrate Arbor and Earth Days.
May 1 Otsego – Cleanup Gardens – Place and time TBA
May 7 Plainwell – Cleanup Gardens – Place and time TBA
May 16 Work on projects and prepare for the annual bake sale. (No speaker planned.) – 6:00 pm Otsego Township Hall, 400 North 16th Street, Otsego
May 18 Spring Plant & Baked Goods Sale – 9:00 am- 2:00 pm Hope Lutheran Church, 280 12th Street, Plainwell
Jun 11 Kalamazoo Garden Council Annual Meeting – Location and program TBA.
June 20 Meeting and Installation of Officers, 6:00 pm Kalamazoo Garden Council House, 5333 N. Westnedge Avenue, Kalamazoo
STATEMENT
Building relationships through our interest in gardening and nature. Our motto is: We Grow, We Conserve, We Beautify.
CLUB HISTORY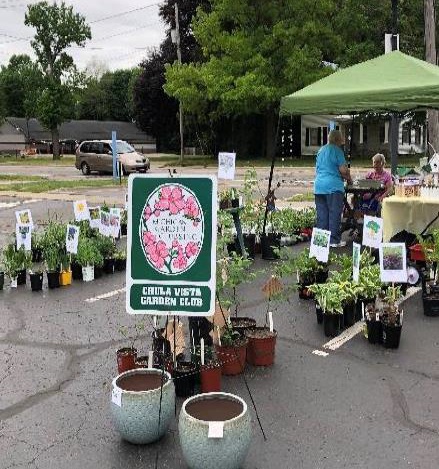 Chula Vista Garden Club, organized in 1956, in the Plainwell and Cooper (B Avenue) area, began with 10 members. These ladies were new home owners and they wanted to learn more about flower gardening. Amy Vandegiessen, flower show judge, encouraged these ladies to become federated — which they did in 1960, and this prompted them to join the Kalamazoo Garden Council.
Over the years since then, our numbers have grown to more than 30 members, and many of our members have been active in Kalamazoo Garden Council and Michigan Garden Clubs activities and leadership.
The 1970's were active times for us. We had many educational programs on topics such as: wildflowers, orchids, environmental pollution, etc. For the Greens Sale we made terrariums, floral arrangements, and candle holders. For the bicentennial, we planted beds of red, white and blue flowers in downtown Plainwell and at the local hospital. It was in Spring, 1976, that our club began giving trees to local third graders to celebrate Arbor Day and to teach the students to respect and care for the earth. This project has continued and grown annually for 40+ years. We now give away about 500 trees and present a program to all 3rd graders in Otsego and Plainwell.
We are proud to have 3 NGC Accredited Gardening Consultants, 1 Environmental Specialist, 6 Landscape Design Consultants; 12 State Life Members, 4 National Life Members, and two Master Emeritus Flower Show Judges, Anna Mae Miller, an original and still very active member of the club and Caroline Gray, former MGC President and Central Region Director who joined Chula Vista this year. We also have 6 Master Gardeners and 2 Advanced Master Gardeners.
Another annual activity involves our growing and showing the All American Seed selections. In Spring each member is given an all American plant or seeds. At our August Potluck dinner meeting we show and judge the plants that we grew. We also bring other horticulture and arrangements from our homes and they are reviewed by Master Emeritus Flower Show Judges, Anna Mae Miller and Caroline Gray, assisted by long-time CV member and experienced Flower Show clerk, Mary File.
We have a plant sale each year which means members can find just the plant they have been looking for — or plants provided by another member who has many more than needed.
The Kalamazoo Garden Council (KGC) Louise Adams Beautification Awards are named after our member, past club president, and past KGC President, Louise Adams, who was instrumental in organizing these awards. Our Club has participated in this program each year since it has been in existence. This year the club is working on 5 gardens and 1 containers project in Otsego and Plainwell. Chula Vista members planted annuals in 75 bridge baskets for the City of Plainwell. Many lovely comments have been received by people who visit the area.
We look forward to hearing and learning more about the additional renovations that are coming to the Garden Council House this year.
PERSONAL OBSERVATIONS
What we feel is unique about our garden club: Our members have great enthusiasm and we work together as well as working with other clubs that belong to Garden Council.
Programs in the past year that we feel were good and we would recommend:
Field Trip to Leila Arboretum & Kaleidoscope Garden, Battle Creek
"Migration of the Monarch" by Jeanette Meyer, M.D., Western Hills Garden Club.
"Worms & Worm Castings" by Alysia Babcock, Worm Growing Expert.
"Water Wise Gardening" by Nancy Lewis, Master Gardener and Chula Vista member.
Tour of River Street Flowerland and how new plants are propagated and cultivated.
Advantages of being a garden club member: Friendship; sharing ideas; participating with other clubs; attending the District and State Garden Club meetings.
What do we especially enjoy about being a garden club member: The people, their thoughts and their ideas. We love to laugh and have a great time.
Things we have learned since becoming members of our garden club: Gardeners make wonderful friends and we have many opportunities to share ideas, plants, and club projects.
A Club Tradition
There are four traditional activities that Chula Vista chooses to repeat each year: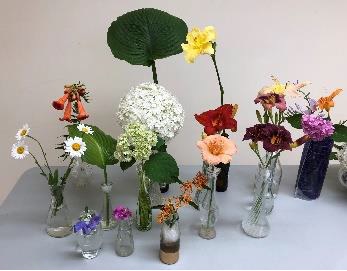 Our annual summer potluck, awards, and informal club flower show is a tradition that we enjoy each year. Club members contribute horticulture and arrangements which are reviewed by qualified NGC judges. It helps us to learn about how to best arrange flowers and prepare horticulture to enter into flower shows. We always enjoy the food and celebrate some members with awards.
We participate in the Kalamazoo Garden Council's annual Greens Sale by making arrangements for sale at the event. It is a festive time and everyone enjoys the activity and potluck. The funds earned are a part of the Kalamazoo Garden Council Greens Sale and the culmination of the club's major contribution to the event.
Our Christmas potluck meeting for fellowship and sharing. Those who want share in cookie exchange, and needed gifts are gathered to be given to the local women's shelter.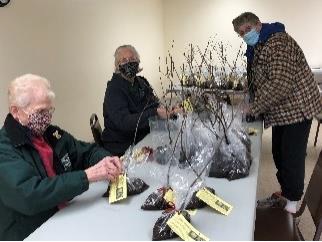 Our annual Arbor Day tree bagging is also a great tradition started many years ago by members of Chula Vista Garden Club and carried on today with great enthusiasm. The program has been expanded to 500 tree seedlings over the years to cover 3rd graders in Otsego schools as well as Plainwell area schools.
Chula Vista provides and plants containers at Hope Lutheran Church where meetings and activities are often held.
Find out more about becoming a garden club member by completing the form below.