---
OFFICERS
Co-Presidents: Pat Hansson
Vice President: Kay Lehmann
Secretary: Theresa Walters
Treasurer: Lynn Belco
Council Directors: Yolanta Motte
Purpose/Mission
Building relationships through our interest in gardening and nature. Our motto is: We Grow, We Conserve, We Beautify.
Committees:
Meetings: 3rd Thursday of the Month at 6:00 pm
COMMUNITY ACTIVITIES
The club works with local community officials to provide horticulture and landscaping support within the communities of Otsego and Plainwell.
At the request several years ago of the Plainwell City Manager, Chula Vista planned and planted two gardens at Acorn/East M-89 in Plainwell. Later, a sculpture was added to the area by the Arts Council, and Chula vista added ornamental grasses to it. A few years ago the City and Chula Vista added a Blue Star Memorial garden in the same area, making four separate gardens which continue to be maintained by Chula Vista members with support from the City.
Working with the City of Plainwell Parks & Trees Commission in 2018, Chula Vista initiated a landscaping plan for a fern garden area within Hicks Park in downtown Plainwell. More than 300 bare root Christmas ferns were ordered and planted by Chula Vista members, friends, and City workers. The ferns continue to flourish and enhance the beauty of the park.
The director of the Otsego Dept of Public Works (DPW) has attended Chula Vista meetings and worked with Chula Vista on the Otsego Blue Star Memorial garden and to develop a pollinator garden, along the walking trail by the Kalamazoo River and in front of the Otsego DPW building.
Chula Vista members partnered with the Plainwell Department of Public Works (DPW) employees in 2018 and 2019 to plant 75 flower boxes for the bridges in the City of Plainwell. In 2021 Chula Vista arranged with the City Parks & Trees Commission and the Plainwell DPW to have an Eagle Scout (nephew of Chula Vista President) construct and donate 12 new very long baskets to hold massive plantings of annual flowers on the bridges and to allow expansion of the Plainwell community flowers project to an additional bridge.
National Garden Clubs, Inc., has made three childrens books related to gardening available over the past several years. Chula Vista has distributed them to all public and elementary school libraries, including the latest one, Network with Nature.
A major activity of the club is the Annual Children's Tree Seedlings/Arbor Day Project which has been an annual April project of Chula Vista Garden Club for more than 45 years. Five hundred tree seedlings are selected, purchased, bagged with soil, and presented to all 3rd graders in all schools in Otsego and Plainwell. Coordinating with the school administrations and teachers, a presentation is provided on flash drives, along with the seedlings.
Due to the COVID pandemic, the Annual Children's Tree Seedlings/Arbor Day Project was cancelled in 2020. The club applied and received award funding from National Garden Clubs, Inc., to conduct the project in 2021 providing about 1,000 tree seedlings to all 3rd and 4th graders, along with 15 flash drives for teachers to educate the children about the value of trees, information about the tree they were receiving, and some tips on how to plant and care for their new tree seedling.
CLUB MEETINGS & PROGRAMS
Chula Vista meets monthly, usually at the Plainwell Ransom Library or the Otsego Township Hall. Monthly programs include speakers on various horticultural or environmentally-related topics or field trips to special gardens or other facilities which feature horticultural, landscaping, or environmental programs.
CLUB HIGHLIGHTS
Chula Vista Garden Club, organized in 1956, in the Plainwell and Cooper (B Avenue) area, began with 10 members. These ladies were new home owners and they wanted to learn more about flower gardening. Amy Vandegiessen, flower show judge, encouraged these ladies to become federated — which they did in 1960, and this prompted them to join the Kalamazoo Garden Council.
Over the years since then, our numbers have grown to between 35-40 members, and many of our members have been active in Kalamazoo Garden Council and Michigan Garden Clubs activities and leadership.
The 1970's were active times for us. We had many educational programs on topics such as: wildflowers, orchids, environmental pollution, etc. For the Greens Sale we made terrariums, floral arrangements, and candle holders. For the bicentennial, we planted beds of red, white and blue flowers in downtown Plainwell and at the local hospital. It was in Spring, 1976, that our club began giving trees to local third graders to celebrate Arbor Day and to teach the students to respect and care for the earth. This project has continued and grown annually for 46+ years. We now give away about 500 trees and develop and provide a program on trees to 3rd graders in all Otsego and Plainwell schools.
We are proud to have 3 NGC Accredited Gardening Consultants (1 Master), 1 NGC Accredited Environmental Specialist, 7 NGC Accredited Landscape Design Consultants (1 Master); 12 State Life Members, 6 National Life Members, and one Master Emeritus Flower Show Judges, Anna Mae Miller, an original and still very active member of the club. We also have 8 Master Gardeners, including 5 Advanced Master Gardeners.
Another annual activity involves our growing and showing the All American Seed selections. The club selects an All American seed or plant to grow. In Spring each member is given an all American plant or packet of seeds. At our summer potluck meeting we show and judge the plants that we grew. This year we grew Zinnia "Holi Pink" seeds and won a blue ribbon at the Kalamazoo Garden Council's NGC Flower Show in July.
We have a plant sale each year which means members can find just the plant they have been looking for — or plants are provided by another member who has many more than needed. Community members look forward to this annual plant sale, and the club earns monies to use for projects or donations to gardening-related causes.
The Kalamazoo Garden Council (KGC) Louise Adams Beautification Award is named after our member, past club president, and past KGC President, Louise Adams, who was instrumental in organizing this award. Our Club has participated in this program each year since it has been in existence.
Our summer potluck and informal club flower show is a tradition that we enjoy. Club members contribute horticulture and arrangements which are reviewed by qualified NGC judges. It helps us to learn about how to best arrange flowers and prepare horticulture to enter flower shows. We always enjoy the food and celebrate some members with awards.
We participate in the Kalamazoo Garden Council's annual Greens Sale by making greens arrangements for sale at the event. It is a festive time of year, and everyone enjoys the activity. The funds earned benefit the Kalamazoo Garden Council Greens Sale, and it is the culmination of the club's major contribution to the event.
Our Christmas potluck meeting for fellowship and sharing. Those who want share in cookie exchange, and needed gifts are gathered to be donated to a local cause.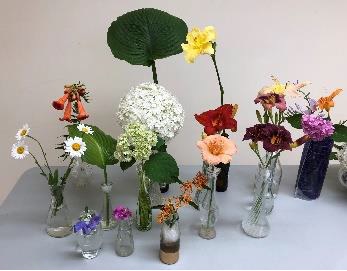 Find out more about becoming a garden club member by completing the form below.