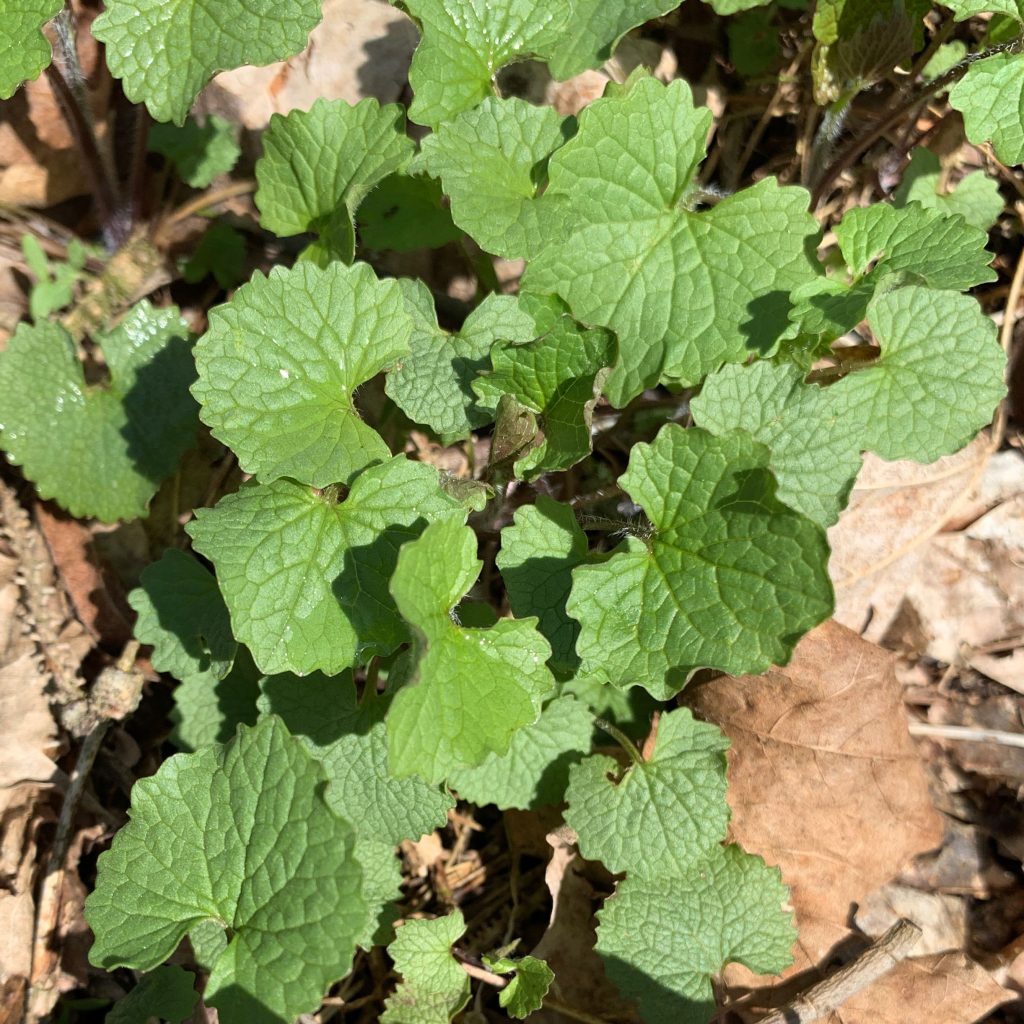 that invades woodland habitats in North America and impacts forest biodiversity. In some woodlands, dense stands of garlic mustard in the spring threaten showy spring blooming ephemerals like spring beauty, trilliums and trout lilies. Other research points toward potentially negative impacts on timber species and forest health. Many land managers consider it to be one of the most potentially harmful and difficult to control invasive plants in the region. Given the chance, it will also invade the home landscape and even take over patches of existing groundcover.
Garlic mustard [Alliaria petiolata (Bieb.) Cavara and Grande] is a member of the mustard family (Brassicaceae). It is a biennial, a plant with a two-year life cycle, growing its first year as a seedling and rosette stage plant and flowering the subsequent year. It most often grows in the forest understory or along forest edges but is also able to invade undisturbed forest habitats. It tolerates low light levels and is adapted to take advantage of disturbed habitats such as trails, roadsides and areas where trees have been removed. Garlic mustard has no significant natural enemies in North America. Populations of garlic mustard can spread rapidly. In a study of high quality woodlots, i.e. typically old growth or undisturbed forest habitat in Illinois, garlic mustard advanced an average of about 20 feet per year, expanding as much as 120 feet in one year. When established, garlic mustard becomes a permanent member of the community, often dominating the ground layer habitat over extensive areas.
The following links provide more information on Garlic Mustard and how to eliminate it from your yard.
Garlic Mustard May be Michigan's worst Woodland Weed: https://www.canr.msu.edu/news/garlic_mustard_may_be_michigans_worst_woodland_weed
Now is the Time to Pull Garlic Mustard: https://www.canr.msu.edu/news/now_is_the_time_to_pull_garlic_mustard_one_of_michigans_most_invasive_weeds
About Garlic Mustard: https://www.canr.msu.edu/ipm/invasive_species/garlic_mustard/about_garlic_mustard