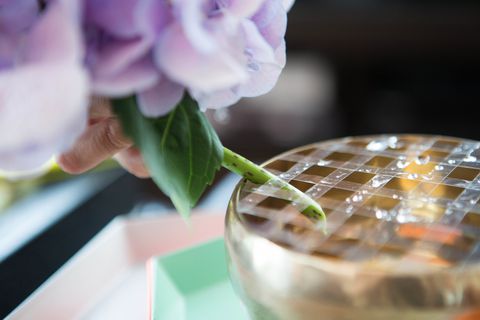 Garden Council members I learned some fun and helpful hints from one of the speakers, William Santos, who is owner of Monarch Garden & Floral Design in Petoskey, while attending the MGC state meeting. I would like to share these with you. I know you are an experienced and knowledgeable group, but there may be that one tidbit that makes your hobby and love of flowers easier and more enjoyable. That is my hope!
You can obtain sandblasted grapevine on Amazon (Remember to have KGC as your Smile beneficiary). Place airplanes on a grapevine arrangement for a simple and lovely centerpiece. I'm doing this as soon as I return home from the meeting!
He tells us that roses last 36 hours after opened so buy them tightly closed. Also, do NOT buy roses at Valentines or Mother's Day as the high demand results in roses being cut 2-3 weeks in advance and the price is the highest. He, also, recommends that if you do buy roses at that time, do NOT buy red roses as those are of the highest demand.
There is clear floral tape available so you can avoid the green tape for clear vases. He uses this in place of oasis as oasis is NOT biodegradable. I will ask Sue Conat if we can't have this available in our shop.
As you make an arrangement, follow the edge of the vase, not the center.
Bactria are your enemy! If you buy flowers from "big box" or groceries, they often do not clean the containers holding the flowers so the life expectancy is shorter.
He recommends Finishing Touch as a hydration and protection spray for your flower arrangements to maximize freshness.
He recommends Easy Arranger to assist in holding flowers in place. He ties fishline around an arrangement so that when it is removed to change the water it doesn't fall apart.
I hope you have learned something new. I know I did. Have a wonderful summer in your gardens!

Your President, Jeanette Meyer